Small Dog, Big Adventures – Book
Life sure changes when a needy puppy enters your home. Experience the crazy-fun of having a dog for the first time with a girl who has no clue what she is doing. 
Ready, set…let's go! 
Meet Lucie, and let the adventures begin…from potty training and learning to use a leash, to traveling in airplanes…and everything in between. 
What would YOU do?
Get the book:
Purchase from Publisher LuluPress

So who is this book for? It's for anyone on the fence about getting a dog and what that venture might entail. It is for anyone who has known the joys and sorrows of pet ownership themselves and who would enjoy reliving their experiences through my own. And it is also for anyone who might just be curious about one girl's adventures (and misadventures) with first-time pet ownership.
I sure had fun getting to know this little creature and I hope you enjoy her too!
Book Preface:
Saying "yes" to adopting my first dog and welcoming a little furry ball of love into my life was one of the best decisions I ever made. I learned so much about connection, unconditional love, responsibility, and joy from Lucie…as well as how to grieve. These lessons will serve me well the rest of my life.
The only thing that made me feel better after she passed away was writing down every memory I had of her. I didn't want to forget a single bit! I never had a pet before and didn't know it was possible to love one so much. That's where this book comes in.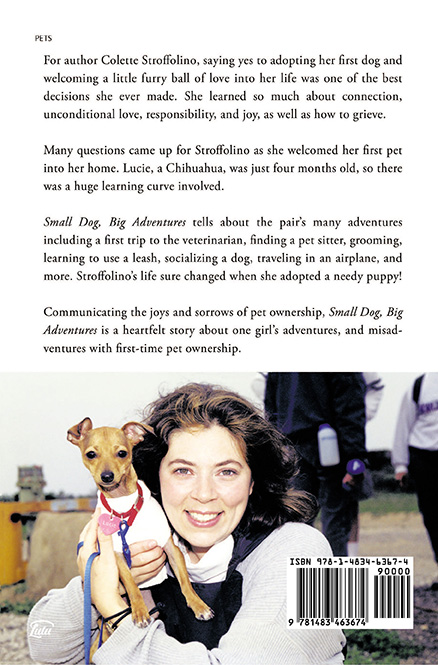 Save
Save
Save
Save
Save
Save
Save
Save
Save
Save
Save
Save
Save
The book Small Dog, Big Adventures by Colette Stroffolino
Purchase from Publisher – LuluPress   or   Purchase on Amazon
or…Log into your favorite bookstore
Search by book: Small Dog Big Adventures
Search by Author: Colette Stroffolino
Save
Save
Save
Save
Save
Save
Save
Save
Save
Save
Save
Save
Save
Save
Save
Save
Save